Camping with private facilities
Looking for a camping with private bathrooms in Drenthe? At Camping Meistershof, located on the edge of the National Park Dwingelderveld, you are in the right place. With us you can choose a private bathroom in the toilet block or a cabin on the pitch for extra privacy.
For questions or availability please contact us by phone at telephone number 0521 - 597 278 or send us an email This email address is being protected from spambots. You need JavaScript enabled to view it.. Discount cards such as the ACSI are not valid in combination with the private bathroom.
Private bathroom fixtures of your choice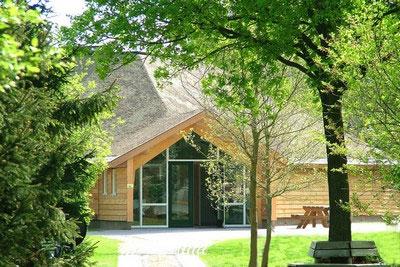 Not only is the sanitary building very luxury, it is also entirely sustainable and ecological. We have taken the outdoor literally indoor for a unique nature experience.
Of course, you can use the public bathroom, but do you want a little more privacy, then it is possible to rent a private bathroom. These bathrooms are equipped with toilet, washing facilities, underfloor heating and a hairdryer. In other words, never stand in line again and always have a clean bathroom.
In addition, we offer private sanitary cabins on the pitch. These units are equipped with a shower, toilet and sink. You enjoy great convenience and luxury during your camping holiday.
Camping on a campsite with private bathroom and excellent facilities
In addition to the fact that our campsite has private bathrooms, we offer much more. To name just a few: our campsite has fast Wi-Fi (for a fee) everywhere on the site and there is a large playground with an indoor sand-water-area. As host of the National Park we offer free nature excursions from the campsite and in addition, it is also possible to make a hot air balloon ride. In the summer season we organise are various camping churchservices and there is an entertainment programme for children.
Service from us,..to you
We offer a unique pick-up, drop-off and set up service for your caravan. Plus, you never have bad weather on holiday. With the exclusive "fair-weather-guarantee" you move your vacation easily and quickly to a period with, for you, pleasant temperatures
It is also possible to make use of our special camp on-camp-off package. During the season you can decide which nights you want to come camping in Drenthe
Getting around lovely Denthe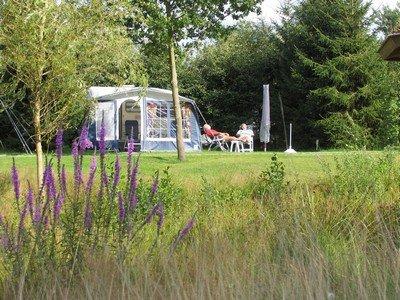 Drenthe is a province full with delightful nature. Combine camping and your stay on our campsite with a private bathroom with the most pleasant days out. Pleasant and family outings include culture in Dwingeloo, Orvelte or Assen, but also many theme parks and swimming pools, are just steps away from our campsite.
With the neighbouring National Park, it is of course very tempting to go hiking, cycling or driving around a little.
More information or book right now
if you want to know more about the possibilities about a pitch with private sanitary facilities, please contact us.
To make a reservation for a camping pitch. also with private bathroom you can contact us by telephone or email. We will be happy to help you.