Will this be your views during your holidays?
The special nature-cabin, new to Meistershof Camping in Drenthe!
Starting from next summer you can stay in our new nature-cabin. Here you can enjoy beautiful, and, above all, priceless views. Are you picturing yourself already relaxing on the veranda, in the middle of the Drenthe green countryside?
Discover our nature-cabin
The nature-cabin is a wooden house similar to our cabin and suitable for 2 people, ideal for a cycling or walking holiday or mini break. The nature-cabin is simply furnished with a double bed including pillows, cosy seating, light, electricity and a cooking device. All you need to bring is a sleeping bag and pillow case and pots and pans, cups, plates and cutlery. For running water and toilet facilities you can use our toilet block.
Unique location with beautiful views.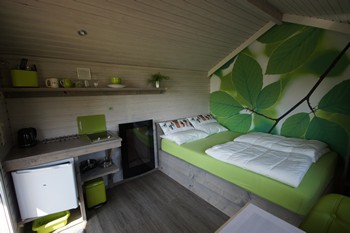 The unique nature-cabin enjoys a breathtaking location on the camp site, on the edge of the Lheebroekerzand and Dwingelderveld National Park in Drenthe. In addition to an ultimate nature experience, the area also offers culture, history and plenty of opportunities for entertainment in the evening. You can spend the night in our new nature-cabin. Let the summer begin!
Want to know more? Please contact us.